Most Affordable CE For Massage Therapists 24CEUs $250
Tyan Anmo Massage Continuing Education School Introduces Rehabilitation of Autonomic Nervous System and Sleep Therapy
The state of the brain is a key indicator of health of the whole body. Today, everybody is trying to treat metabolic disorders with different pills, even going to see surgery doctors, but it is forgotten that the cause of everything that happens to the human body is a state of the brain. Therefore, by balancing and restoring the function of the brain it is possible to heal many ailments or slow the aging process.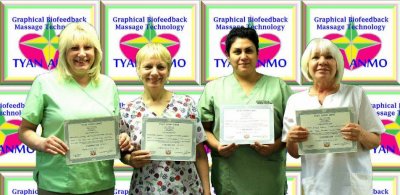 Buffalo Grove, IL, April 29, 2014 --(PR.com)-- At the height of the technology rush good productive sleep becomes a dream for many, especially for those over forty. The importance of healthy sleep cannot be overstated, it is not only a guarantee to stay looking young, but also it gives good health.

Known fact: after having a massage therapy person feels pleasantly tired and wants to sleep.
 
It is because "Moderate pressure massage elicits a parasympathetic nervous system response." (Touch Research Institute, Department of Pediatrics, University of Miami School of Medicine, Miami, Florida, USA. [email protected]) And another fact "Cortisol decreases and serotonin and dopamine increase following massage therapy." (Field T1, Hernandez-Reif M, Diego M, Schanberg S, Kuhn C. Touch Research Institutes, University of Miami School of Medicine, Miami, Florida 33101, USA).

Based on these facts, Tyan Anmo Continuing Education School for Massage Therapists has developed a manual therapy technique including the use of biofeedback for monitoring the function of the sympathetic nervous system (Sympathetic Skin Response). Using this method, Tyan Anmo practitioners can see the dynamics of the treatment and what areas they need to enhance to achieve the maximum relaxation results. With each session the client sees a change in the chart of the function of the autonomic nervous system. With consistent treatment there are opportunities for clients to restore a productive sleep pattern.

About Tyan Anmo School
Tyan Anmo school is a continuing education provider for massage therapists that teaches students the basics of biofeedback and the rules of using skills to achieve maximum results in therapy. These results are documented and can be confidently referred to the Health Care Insurance Companies as an objective evidence of providing the help in recovery and healing. According to Tyan Anmo school statistics, each tactic of massage has different results, massage therapist need to choose the best strategy for each client.

Tyan Anmo was established in 2013 July.

Tyan Anmo Body Work was developed by Doctor Aybek Izzatov in Illinois, USA.
Click here for registration OR CALL 224 388 0928 (please leave voice messege if not answered) Thank You!
---
Other posts